Scaffolding Safety - How to Make Sure Your Workers Stay Safe with Scaffolding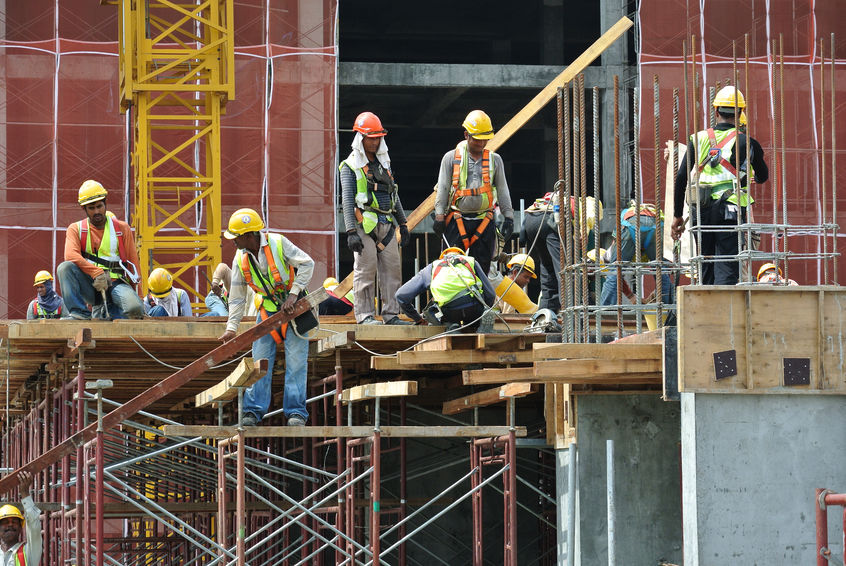 Scaffolding exists to make job sites safer, but if it isn't used correctly, it becomes a hazard itself. The Bureau of Labor Statistics reported 713 fatal falls to lower levels last year, including 48 falls from collapsing structures or equipment and 79 falls to surfaces less than six feet below. Workers rely on scaffolding to reach elevated surfaces, but even a slight elevation makes mistakes more costly, so it's important to use scaffolding exactly as intended. Avoid a preventable scaffolding injury by making sure you and your employees understand every safety regulation and manufacturer instruction that applies to the scaffolding you use.
Take these steps to keep your workers safe and your scaffolding effective:
Train Every Worker in Scaffolding Safety
A workplace is only safe when every worker knows how to keep it that way. Each construction site will have different scaffolding requirements, and your workers must know how to distinguish between them and safely meet them all. Proper training and education is the only way to make sure your whole workforce understands the specifics of each scaffolding safety rule and why it's so important to follow, from wearing harnesses at certain elevations to using separate ladders for certain types of frames. Regular training also keeps workers up-to-date on new scaffolding systems and correct construction methods.
Invest in training now to avoid falls, falling objects, collapses, and inspection violations later. Show workers exactly how to construct and use a variety of different scaffolding types, including suspended and supported platforms, stationary and rolling towers, and wood and metal planks. Proper use training should always include the safety gear and maintenance tools they'll use, too. Emphasize the fall protection requirements and access requirements that apply to all scaffolding, and confirm that every employee knows how to identify and apply different rules for different types and heights.
Choose the Right Scaffolding for the Job
Of course, using scaffolding safely starts with using the right scaffolding. Your scaffolding must fit the unique dimensions, obstacles, and accessibility requirements of each job, and some products and systems are more convenient for specific tasks. Make sure you choose scaffolding that provides sufficient access to higher levels and lets workers do their jobs safely, whatever that means for you. Consider your timeline and surrounding environment as you make this choice, and pay attention to safety rules that change or tighten according to factors like ceiling height, the distance between ladder rungs, and weather conditions.
For example, walk-through frames make it easy to access long lengths of a wall without interrupting workflow below, and they can be attached to equipment below or next to them. More adaptable tube and clamp scaffolding are valuable in settings with odd shapes and obstacles, such as machinery, stairs, and tanks. And if you need scaffolding that's easy to assemble in tight indoor spaces, opt for a height adjustable tower like the Southwest Scaffolding Steel Multipurpose Scaffolding Unit. A versatile piece of indoor equipment, this type of scaffolding can be adjusted and relocated as often as necessary.
Use Scaffolding Exactly As Intended
Proper scaffolding use starts with construction and assembly. Set-up should always be supervised, and all bracing and support mechanisms must be double-checked to make sure they're secure. If your scaffolding has a firm foundation and is properly installed, only then is it time to focus on the hazards involved with using it.
Here are some of the most crucial components in proper scaffolding use:
Recognizing Scaffolding Safety Hazards
Do workers know how to identify all the potential hazards for each type of scaffolding and construction site? For example, do they know to look for overhead power lines (especially when working with metal scaffolding), or to check for ice or water that may appear on exposed or partially exposed scaffolds? Before workers climb onto or off of scaffolding, they should always be aware of these risks and make accommodations to prevent injuries.
Using the Right Safety Gear
In many cases, workers must add features to scaffolding or wear specific gear in order to minimize potential hazards. For example, if scaffolding is high enough, safety harnesses and other wearable safety gear may be necessary. If scaffolding grants access to sloped surfaces or steep drop-offs (such as rooftops), workers may need to construct additional barriers like handrails to prevent falls or dropped objects.
Meanwhile, simple additions reduce risks caused by unpredictable factors like human error and changing weather. Toeboards help workers find their footing, treads minimize the chance of slipping, and rest platforms break up scaffolding with especially tall climbing surfaces. Identify all the accidents that could happen, and use all the safety gear that could prevent them.
Respecting Load Limits
Each scaffold has a different weight capacity, and workers should know and stick to it. This capacity accounts for people as well as the gear they wear and the equipment they carry or transport. Make sure workers understand the importance of load limits because heavier-duty scaffolding is always available for jobs that require heavy loads. Compromising the structural integrity of your scaffolding should never be an option.
Keeping Surfaces Clear
Scaffolding safety failures can cause a variety of injuries, but most are related to falls or dropped objects. In addition to preventing employees from falling off, make sure you prevent your employees from dropping or leaving behind objects that could injure others. No tools or equipment should ever be left on unattended scaffolds, and proper rails or barriers are necessary even when workers are handling objects on elevated surfaces.
How will you make sure your scaffolding is safe? Start by keeping workers up-to-date on safety regulations, and investing in scaffolding that makes following these regulations easier.
About the Author
Howard Raphaelson is a partner at Raphaelson & Levine Law Firm we work tirelessly to protect labor law and aggressively fight to secure maximum compensation for construction workers injured on a New York construction site. To schedule a FREE consultation with a construction accident lawyerat our firm, call 212-268-3222 or complete the contact form.
Recent Posts
Scaffolding is an indispensable component of construction projects, providing a stable and saf …

Scaffolding is a crucial component of any construction project, providing a stable platform for work …

Creating the perfect floor plan for your commercial space is crucial for maximizing efficiency and p …